LCD Monitor Rentals for Businesses and Events
Vernon Computer Source offers a broad range of state-of-the-art LCD rental displays that can function as either HD televisions or computer monitors.
We stock a variety of flat screen plasma screen monitors from 15 to 65 inches diagonally, from leading manufacturers such as Samsung, Sony, IBM, Lenovo, NEC, Hewlett Packard (HP), Apple, Sony and Viewsonic. Looking for touch screen monitors? We have those too.
Call us now at 800-827-0352 to speak with a knowledgeable sales professional who will assist you in selecting the size and resolution of LCD monitor best suited to support your rental situation, whether client presentation, meeting, corporate marketing event, training or trade show. Qualified technicians will test your rental equipment before shipping, and be available around the clock giving you 24/7 phone support to insure that your computer monitors are in working order for your convention, sports events, trade show or business seminar.
We Make Renting a Monitor an Easy Process
There are 4 ways to go: You can switch at any time.
Short-Term Computer Monitor Rentals: We offer daily and weekly monitor rental on a broad range of computer and peripheral equipment suitable for meetings, trade shows, corporate events and conventions.
Long-Term Computer Monitor Rentals: For corporate projects with longer-term requirements, we offer the same broad range of equipment for terms up to 36 months.
We rent all types of monitors:
Customized Agreements to Meet Your Needs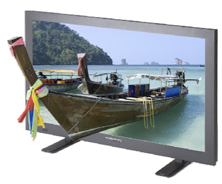 Vernon's unsurpassed flexibility enables our customers to constantly assess and adapt their solutions to meet their changing needs. We are redefining the computer rental industry, by helping our customers change their technology at any point during its life cycle, from acquisition to disposal.
Customers enjoy the freedom to change the terms of their monitor rental agreement at any time, and for complete peace of mind Vernon guarantees it will even buy-back selected used items if you change your mind in the future.
Whether you are in charge of a large corporate event, presenting at a major trade show, or providing software training, Vernon's computer projector rental services will meet your needs through our offices located throughout the U.S.
Vernon Computer Source offers everything from:
wireless laptops
desktops
servers
color printers
scanners
Touch Screens
…as well as all the upgrade options and networking accessories to go with them.
Put our flexibility to work for you. For Infocus, NEC or Sony computer projector rentals or any computer rental, call now- 800 827-0352 or click here to submit an online request for monitor rental pricing.