Rent Laptops Here
Why choose Vernon to rent laptops?
Unmatched prices (just ask how we can beat a competitor's rate).

10% product back-up provided with every rental.

Over 30 years of experience serving professionals with technology rentals.

For busy professionals, laptops are the weapon of choice when it comes to traveling and getting work done from any location. Businessmen and women rely on their devices to carry them through training courses, business trips, or even conventions!
Laptop rentals are a cost effective solution for budget conscious companies with temporary IT hardware needs. At Vernon Computer Source, we are proud to offer a wide range of laptop makes and models from Tier 1 manufacturers such as Apple, Lenovo, HP, Dell, and more. Test before you invest – let us show you how renting laptops for your office or event can save you time and money.
With 30 years of rental experience, Vernon Computer Source's team of professional IT technicians, sales representatives, and customer service specialists work with you to get you the best deal with the best customer experience from start to finish.
When do Vernon customers decide to rent laptops?
Vernon offers a variety of laptops in both traditional and convertible tablet styles. Here are just a few ways our clients use their laptop rentals:

Meetings, and classes: Take notes at a seminar without lugging tons of paper around! Our inventory includes high-end traditional laptops with keyboards such as Apple's MacBook Pro and the HP 6930. We also carry convertible laptops with stylus pens such as the Lenovo ThinkPad Helix, letting users hand write notes silently – in real time!

Temporary offices: Offices moving to new locations or businesses that need to set up short term workstations can rent laptops for the entire team! Our team will deliver your devices, set them up, and remove them when you're done. All you need to do is turn the computers on and get your work done!

Events (presentations, trade shows, and more): Event planning requires a lot of organization, and touchscreen convertible laptops are a popular rental choice for event organizers. Stay connected with your team or clients, have instant access to your data, and keep your event on track.
Save time, money, and energy with laptop rentals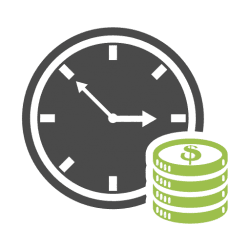 The lifecycle of technology is growing shorter by the year – new laptop models are released every 6-12 months, and it can be expensive to keep up with. Renting laptops from Vernon Computer Source guarantees you access to the latest technology as it is released without the pressure of a permanent investment.
Vernon offers 24/7 technical support, so you get the help you need whenever you need it.  For after hours support, please use the phone number on your invoice to get in touch with your representative. We eliminate your office downtime by staying on top of your concerns and work with you to ensure your satisfaction with your rentals – all as part of your rental agreement.
Our flexible rental arrangements allow you the change your terms if you need to, including rent-to-own options. We create lasting relationships with our clients, becoming your one-stop-shop for IT hardware!
Need a laptop? Visit our website and use our free FlexQuote system to receive pricing within the hour. Alternatively, you can call 1–800–827–0352 and try out our world-class customer service. As the planet's largest computer rental company – we wouldn't dream of offering anything less!