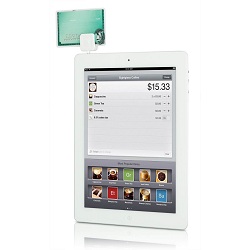 As many of our customers rent iPads for their events, we've added the option of credit card processing for those who can seize a sale opportunity while on-site. By adding the Square Card Reader, you can accept credit cards or cash with this secure app with little setup required. There are no contracts, monthly fees or merchant accounts required, and the funds are deposited into your account the next day. The service fee is just 2.75 percent per swipe for Visa, American Express, MasterCard and Discover.
Benefits of adding Square
Easy Setup: We'll ship your iPads with card readers to your event location with the app preloaded and ready to use.
Easy Analytics: The app is designed to track sales, collect tips, calculate tax and send electronic receipts through email and text messages.
Ease of Mind: This is a safe application that has met all industry-standard security practices to protect both your customer, and your business.
Rent iPads with Square Card Reader from Vernon Computer Source
The iPad rental fleet at Vernon Computer Source has served countless event planners and businesses at events, trade shows and classrooms throughout North America. With the help of its international affiliates, these services are even extended overseas into Europe, Asia and Australia.
To learn more about renting iPads with Square Card Reader, fill out a quote form to have a representative provide you with more information within the hour. You can also call 800-827-0352 to speak with an associate.