Frequently Asked Questions (FAQs)
Q: What is your rental procedure after I receive my equipment?
A: We put together a quick-and-dirty diagram to show how our rental process works! Check it out below, or visit our How it Works page for more information: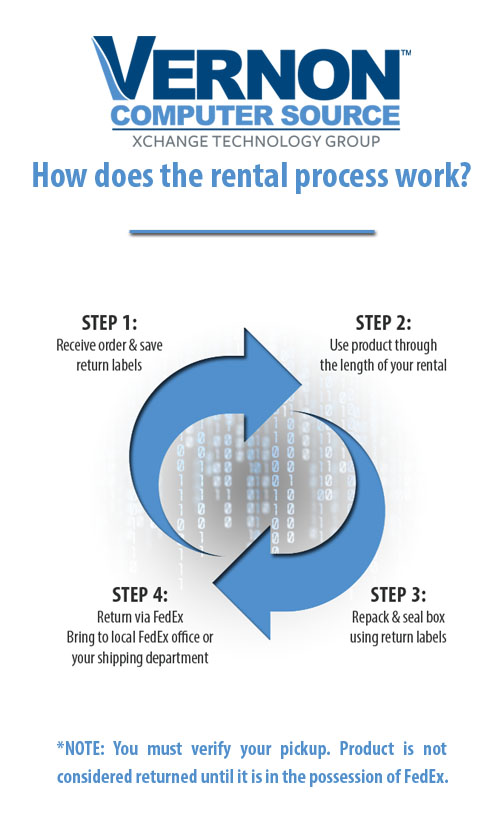 Q: I need help with my rental, or have a question. What should I do?
A: For after-hours or weekend support regarding your rental, please contact your representative. If you do not have a representative, please contact the phone number listed on your rental invoice or contract.
Q: What cities do you cover?
A: While we work primarily in the U.S., we are a global company – we deliver computer rental equipment to most of the world's major cities in nearly 100 countries. Contact us to find out if we can provide delivery to your country.
Q: What size events do you usually cover?
A: We stock over $40 million worth of IT inventory. We can cover any size event – whether you're interested in renting laptops, desktops, tablets, servers or projectors. We offer bulk rentals for large events, and extra equipment on high quantity orders in case of a hardware malfunction.
Q: What is your largest event, at least when it comes to the number of work stations you have provided?
A: We have delivered over 2,000 notebooks with a purchase value of $2 million for a political campaign. For another order, we delivered simultaneous shipments of 400 custom imaged notebooks to 17 different countries (France, Germany, Hungary, Thailand, China, etc.)
Q: Where are your distribution centers located?
A: Vernon Computer Source has distribution centers and offices in the following cities:
Norwalk, CT (HQ)

Raleigh, NC

Redmond, WA

Atlanta, GA

Mississauga, Canada

Macau, China

London, England

Paisley, Scotland

Melbourne, Australia

Tokyo, Japan
A widespread global reach gives us the ability to provide your business with guaranteed prompt shipping and lower freight costs on any computer equipment you rent.
Q: Do you offer multi-year discounts?
A: Yes, we're happy to arrange multi-year discounts for our regular customers. Contact us for details.
Q: Can we rent a handful of machines prior to the event to test them out?
A: Yes.
Q: Can we request custom configuration (HDD, RAM, etc.) or are rentals standard only?
A: Yes, we can supply machines with standard configurations, or custom configurations. When you request your quote, please specify any customization you may need, including programs and applications.
Q: Is an OS provided with my computer rental?
A: An operating system is provided for each machine that we rent out. Our Tier 1 systems support Windows Vista, Win 7 (32 and 64), Server 03 and 08, MAC OSX, Linux and Solaris.
Q: What imaging processes do you use?
A: Norton Ghost.
Q: What program do you use for data wiping?
A: KillDisk Pro.
Q: What is the average turn-around time on machines – from your warehouse to our location?
A: Once your order comes in, it is packed and shipped within 24 hours.
Q: What about liability? Where does your liability end and ours begin?
A: Our liability ends, and yours begins, upon delivery. We require that our customers make sure that our hardware is in a safe and secure location. For hardware related issues Vernon will supply spares for easy and timely swap out. Vernon is not responsible for damage, theft or end user related problems, customer will be billed as determined.
Q: Do you backup the machines prior to the event?
A: We hold a copy of the image on our server. We also send imaged hot swaps which are kept on site to swap out with any unit that may need service.
Q: Will we have backup images on-hand at the event (not counting spare machines)?
A: Depending on the size of image, Vernon can provide back up image via machine, CD, thumb drive or FTP site.
Q: Are the machines tested before they are shipped to our event?
A: All machines are tested, cleaned, and virus free. We provide a fresh OS load with updated patches on each machine.
Q: Will technicians be on site for the duration of our event?
A: We offer Rent-a-Tech services for events in select U.S. and Canadian cities. If you would like to Rent-a-Tech, please let us know in your quote form.
Q: Is there additional cost for having technicians on-site?
A: Yes. We can provide technicians with different skill levels. Please let us know what skill set you will require so we can best match a technician for your needs.
Q: Does Vernon do the machine setup/teardown?
A: Yes, we can provide complete set up and teardown. We can also provide cabling, networking and server set up.
Q: Is there a guaranteed turnaround time for setup/teardown?
A: Guaranteed turnaround is available. Time, technician, and facility variables will determine additional costs.
Q: Do you set up network connectivity to the machines?
A: Yes we can provide network connectivity. Let us know your requirements for Cat5, Enet, switches, routers or wireless devices and power. A layout or diagram is helpful, should you wish to provide us with one.
Q: Do you rent tablets? If so, what kind and how are they priced?
A: We carry the iPad / iPad Mini, Samsung Galaxy Tab, Motorola Xoom, Microsoft Surface Pro, Lenovo ThinkPad Tablet 2 and dozens more tablet rentals for business in our inventory at any given time. Rates vary based on the timeliness of the version you require. Presently, most rent from $75 to $190 – and we offer variable rates based on term duration.