In the laptop rental business we tend to see a lot of industry-related news being churned out every week… and this one is no exception.
To encapsulate the past seven day's findings, we've compiled the following summaries:
Zany Dual-Screen Laptop Hits Market
Wildly contrary towards current trends towards ultraportables, a manufacturer that you probably have never heard of (gScreen Corp.) is beginning to make a dual-screened beast of a laptop. Nevermind what Samsung, Lenovo, HP and Apple are doing – these guys are innovators!
I could describe the new gScreen Spacebook to our readers in avid detail, but as adage goes – a picture is worth a thousand words.
So here you go: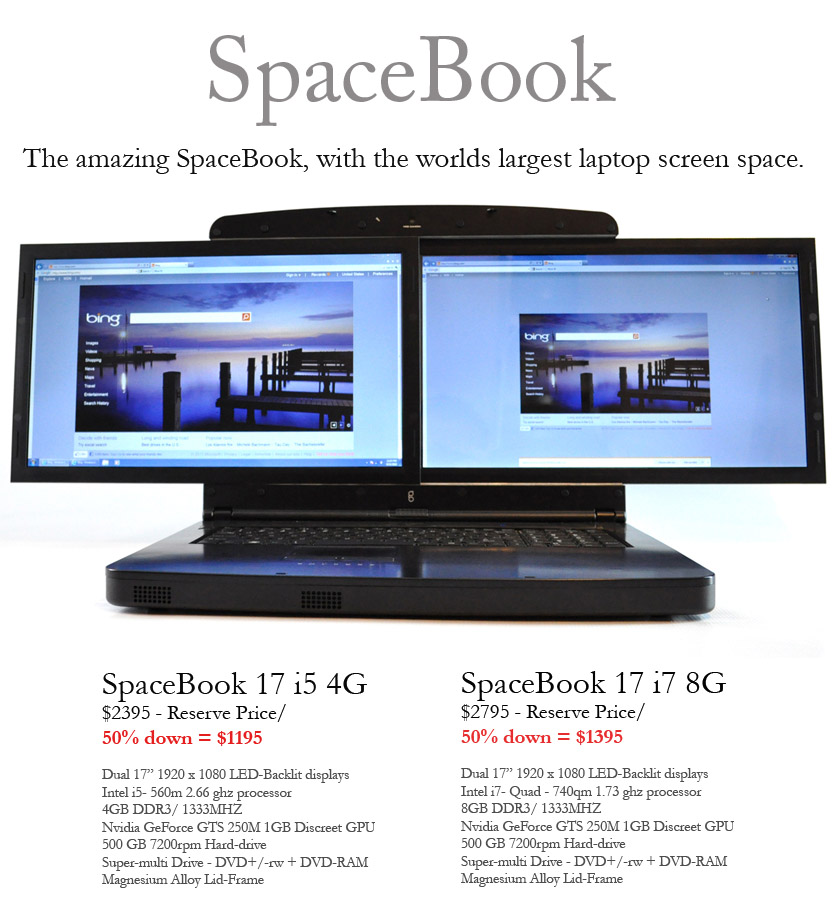 The specs on this beast are impressive – making it a competitive option, performance wise, to the top performing notebooks in the space. And while most critics might immediately disdain these devices for their clunkyness, we find ourselves miring the ingenuity at hand.
For designers, editors, stock brokers and programmers, this sort of dual-screen product can certainly streamline workflows and make life… easier.
And hey, I'm sure there is a market for that.
Sony Pursues Efficiency Trends with World's Lightest Laptop
Going counter to gScreen's endeavors, Sony has brought the world's lightest laptop to the United States marketplace.  The VAIO Z series is officially the lightest 13" notebook out there. But how, exactly, did the big tech maker accomplish this?
According to Sony officials, "The Z Series laptop is fully flat, abandoning protruding ports, unnecessary seams and bulky batteries for a slim profile that delivers up to 8 hours of battery life." Its' officials added, "Users looking for even more flexibility can purchase an optional large-capacity sheet battery that attaches flush to the bottom of the computer and extends the battery life to up to 16 hours."
So, a lot of cutting-edge engineering went into this product.
No wonder it costs $2,000 up front.
Libraries Emerge as Fierce Competition to Industry
The computer rental industry is a fairly cut-throat one and there's plenty of competition out there already.
But it seems that there is a new contender to face – libraries.
At St. Charles Parish in Louisiana, library members in good standing can now check out laptops in addition to books.
Luckily for us, we're not intimidated by librarians.