Print Wirelessly at Your Next Event or Expo with an iPad Rental and a HP CM1415 AirPrinter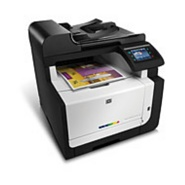 iPad rentals make for a great, sleek solution for companies seeking to put off a modern presence out in public.
But when it comes to other basic computer functions outside of mere processing, some of the iPad's more advanced capabilities are little known. For example, they can be synced up with wireless "air printers" to provide a standard printer experience. And that's pretty good, because at summits, presentations or trade show booths, no one wants to be stepping over messy wires.
What would be the point of "pretty" new technology when it's all a clutter? AirPrinters solve that dilemma by offering a wireless solution. The iPad syncs up directly, and the user is able to print with minimal hassle.
It's AirPrint. And go.
Print Wirelessly. Print Cleanly.
Wireless "AirPrinting" capabilities for usage with multiple mobile devices
Copy, fax, print, scan
8.9 cm color touchscreen
USB
WiFi
*1,200 DPI resolution on scanner function
Get an iPad Rental Bundled with an HP Laserjet Pro CM1415 Air Printer
We rent more iPads than anyone else in the world – and that means we've got more accessories and add-ons than anyone else in the world. Least of which, we've begun offering these AirPrinters along with our iPad rentals to customers in need of clean, wireless solutions for their events and trade shows.
So when your business needs bulk iPads and wireless printers for your next event, we hope you'll know who to call.
Vernon…