Rent the All-In-One 3D Touch Screen PC: the LG V300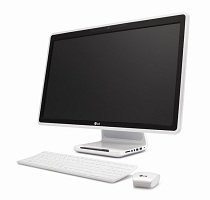 Be the first to use LG's latest all-in-one PC at your next exhibition. Revealed by the South Korean tech-giant, the LG V300 made its debut at Computex—strutting 3D and touch screen capability.
The PC was made through a partnership with Intel, featuring 2nd Generation Intel Core processors and a 3D Film-type Patterned Retarder Display (FPR) that is also found in its CINEMA 3D TVs. Its In Plan Switch (IPS) screen technology allows for a 178-degree viewing angle with a triple camera system allowing multi-touch capability.
The company's Executive vice President, J.J. Lee says the PC combines the best from the computing world with the best from the display world.
A Snapshot of the LG V300 Specifications
Processor: 2nd Generation Intel Core i7, i5 or i3
Operating System: Windows 7 Home Basic (64bit) or Windows Home Premium (64bit)
Display Resolution: 23.0 inch Full HD (1920×1080) LED LCD
Memory: Max. 8 GB (DDR3 1333MHz)
Graphic: AMD Radeon HD 6650M with DDR3 1024MB or Intel HD Graphics 3000 or HD Graphics
Rent the LG V300 from Vernon Computer Source
At Vernon Computer Source we like to keep up with the latest in AV display technology to satisfy our customers looking to put on a stunning presentation at their exhibitions. We're following innovations in the industry, and will have them available to you as soon as they become available.
If you're interested in a touch screen rental, give us a call at 1-800-827-0352 or fill out a FlexQuote.