Rent a HP 23″ TouchSmart 9100 and Invite Event Interaction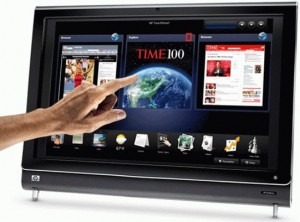 Touch screen displays tend to make a splash at events – since they're fully interactive, they attract a crowd.
And HP happens to manufacture an entire line of integrated touch screen computers that have everything you could want in an all-in-one package. Its TouchSmart 9100 option is a computer, a monitor, and a touch screen all in one, allowing for all manner of interaction.
It is Windows 7 multi-touch guaranteed, so it gives users a familiar format – and then enhances its abilities to an interactive degree.
Built-in premium speakers allow for a truly interactive audio experience, while an internalized WiFi antenna, slot-loading DVD drive, and built-in microphone round out the package.
And as a bonus, integrated apps can be accessed with a swipe of a fingertip, making this product one equipped to multi-task.
Our HP TouchSmart 9100 Rental Specifications
23" 1080p Full HD Widescreen
16.9 Aspect Ratio
HDMI Input
Integrated WiFI and DVD Features
Built-in Microphone and Webcam
Rent a HP 23" TouchSmart 9100 From Vernon Computer Source
Here at Vernon Computer Source, our inventory represents over $40 million dollars. We boast stock from all of the industry's leading manufacturers – HP, Lenovo, IBM, Dell, Samsung, LG, Canon and others.
With the ability to ship internationally to any of our global warehouses, we can ensure that you get the most competitive price possible.
Want to test out our promise? Fill out a hassle-free FlexQuote for our HP TouchSmart 9100 computer rentals, and we'll get back to you within an hour with pricing.