The Samsung Series 7 11.6" Business Slate Tablet Rental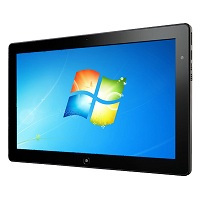 When you seek tablet computing that was built with business in mind, the Samsung Series 7 11.6" Business Slate is certainly an ideal choice. This tablet rental runs on Windows 7 – a favorite among business users allowing synchronization with office software. Another feature important to professionals on-the-move is fast start up, which you'll get with Samsung's Fast Start technology allowing the tablet to get up and running in as little as two seconds from hybrid sleep mode.
The Series 7 Business Slate provides our rental customers with the power of a full-sized PC in a portable form factor, weighing less than two pounds. If you find that you would like the option of a more traditional work station, you can opt for a dock cradle and compact keyboard. Just tell us how we can customize your rental.
A Glance at the Specs
Operating System: Genuine Windows 7 Professional (64-bit)
Processor: Intel Core i5-2467M Processor
Screen Size: 11.6-inches Superbright Plus Technology
Graphics: HD Graphics 3000
Storage: 64GB SSD (mSATA)
Resolution: 1366 x 768 HD LED backlit
Brightness: 400 nits, 16:9
I/O Ports: USB (1); Headphone Out; Microphone In; Micro SD (1), Docking Port Capability
Dimensions (W x D x H): 11.66 x 7.24 x 0.51 inches
Rent the Series 7 11.6" Business Slate from Vernon
The tablet rental inventory from Vernon Computer Source is comprised of devices from the industry's leading manufacturers. From Samsung to Apple, we are providing professionals with tablets made by their preferred brands from everything for proof of concept, to trade shows and conferences. Our international affiliates further extend these services overseas.
To learn more about renting tablets for your organization, request a quote and a dedicated representative will provide you with all of the information you need, including a no-obligation quote within the hour. You can also call 800-827-0352 to speak with an associate right now.