Rent the Samsung Galaxy Tab 7.0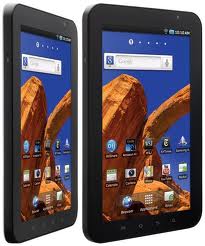 If you're a Samsung Galaxy Tab fan, you're in for a petite treat with its miniature counterpart.
The new Samsung Galaxy Tab 7.0 is a "fantastic little powerhouse" according to one review on the Samsung website.   In addition to running on Android 2.2, otherwise known as Froyo, the tablet allows users to browse through the Web—including those requiring Adobe Flash Player capabilities.
As our customers are working professionals, the added benefit of ThinkFree Office, the app compatible with Microsoft Office apps Word, Excel and Powerpoint is a major plus for this compact tablet.
If you liked the portability of the original Samsung Galaxy Tab, get ready to take it to the next level.
Samsung Galaxy Tab 7.0 Specs
Operating System: Android 2.2 (Froyo)
Display: 7.0-inches, 600×1024 pixels
Adobe Flash Compatible: Yes
Connectivity: Wi-fi only (802.11 a/b/g/n); Bluetooth 2.1
USB: Yes, 2.0
Camera: Front Camera: 1.3 Megapixl; Rear Camera: 3.0 Megapixel, Auto Focus with Flash
Dimensions (W x H x D): 7.48 x 4.74 x 0.47 inches
Samsung Galaxy Tab 7.0 Tablet Rental from Vernon Computer Source
Business users are continually opting for tablets when they require computing ability in a truly portable form.  Our tablet rental services offer the latest and great the industry has to offer, from Apple's iPad 2 to the newest Samsung Galaxy Tab edition. With services extending through the United States and beyond, we are well suited to provide the short-term technology needs of organizations of all kinds.
To learn more, simply call 800-827-0352, or fill out a quote and a member of the Vernon team will contact you within the hour.