Tablet rentals for events and travel: Lenovo Yoga Tablet 2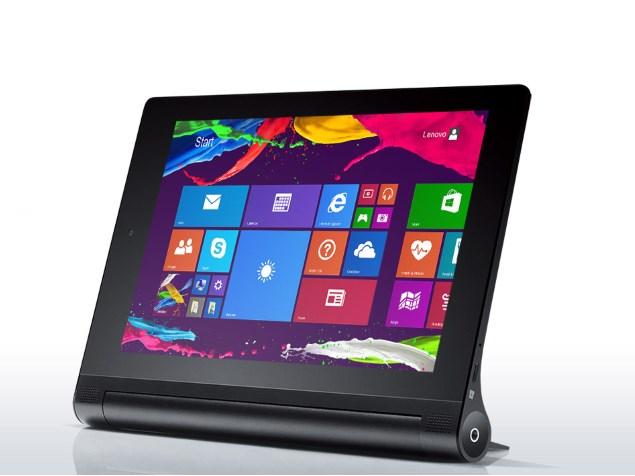 One of the most exciting releases announced at the CES 2015 show was Lenovo's Yoga Tablet 2. For those who prefer a Windows tablet rental for business use, the Yoga Tablet 2 is highly adaptable and an excellent Windows alternative to the iPad or Samsung Galaxy Tabs. As an addition to Lenovo's successful line of mobile devices, the Yoga Tablet 2 is equipped with AnyPen technology, which gives the user the freedom to work with or without a stylus – you can use your finger or even a ball-point pen without the risk of scratching or damaging the durable display. Take a closer look at what the Yoga Tablet 2 can bring to the table at your next event.
Lenovo Yoga Tablet 2 technical specifications
Processor: Intel Atom quad-core
OS: Windows 8.1
Stylus: AnyPen technology
Display: 8″ multi-touch full HD IPS display
Front-facing Dolby speakers
Battery life: Up to 15 hours      
RAM: 2GB
Storage: Up to 32GB
Weight: .94 lbs
Tablet rentals are an inexpensive way to stay highly organized during events, coordinate sales in the field, and even stay productive on the road. Vernon Computer Source has spent the last 30 years perfecting our short term computer rental business, and as technology has advanced we have always been right on top of the newest releases. Our customers enjoy complete technology solutions – bundle your tablet rental with accessories like stands, cases, styluses, charging cables and more.
Want to add the Lenovo Yoga Tablet 2 to your next event or meeting? Call 800-827-0352 or request a quote now to add this sleek, lightweight tablet to your team to boost mobile efficiency for any upcoming short term corporate projects. Pair your Yoga Tablet 2 with a wireless color printer rental to set the stage for a smooth training session or event presence!