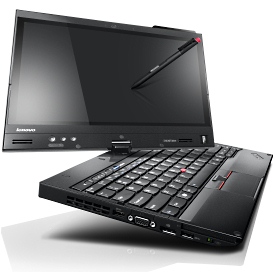 The Lenovo ThinkPad X230 tablet has earned its position as one of the most powerful tablet rentals in our inventory. The X230 is similar to its X Series brother (the X201) in terms of convertibility, but the ThinkPad X230 is built for speed and performance.
With an impressive 18-hour battery life potential, the Lenovo ThinkPad X230 is designed with productivity in mind. The cool and quiet system is optimal, providing a comfortable user experience. Like all of Lenovo's products, the X230 is sturdy enough to stand up to outdoor and mobile use, and the efficiency-boosting Lenovo RapidBoot and Enhanced Experienced 3 give the device the quickest startup time yet.
Lenovo ThinkPad X230 Features
The ThinkPad X230 is packed neat features that can increase the performance of your team on the go. Check out the feature highlights below:
Backlit ThinkPad Precision keyboard for working in low light conditions
Windows 7 Operating System
Keystroke noise suppression for quieter typing
High quality webcam for video conferencing
Preloaded applications – Skype, Norton Internet Security 2012, Adobe Acrobat Reader, and more
Up to 18 hours of battery life
3rd Generation Intel Core (up to i7) processor
Lenovo ThinkPad X230 Tablet Rentals
While tablets like the X230 can be expensive, Vernon Computer Source is proud to offer Lenovo ThinkPad X230 tablet rentals tailored to fit your businesses needs at an affordable price. To speak to one of our tablet rental experts, fill out a quick FlexQuote form and you will be contacted within the hour!