Rent the Lenovo ThinkPad X220 Tablet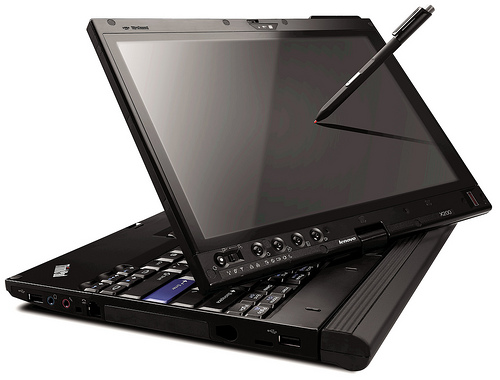 Mobility, versatility and power – if these are qualities you seek in your IT hardware, consider the Lenovo ThinkPad X220 Tablet. Professionals ranging from doctors to field engineers have taken to the benefits of this device, both as a tablet and a laptop.
A step above its predecessors, the X220 tablet features an improved hinge-based latched design, created for greater durability and reliability. The tablet PC further features a 45 percent larger touchpad than those before with a new "buttonless" design, and larger Escape and Delete keys for user convenience.
The X220 is a high end tablet PC designed specifically to provide optimum performance for professional use.
A Glance at the Lenovo ThinkPad X220 Tablet Specs
Processor: Intel Core i-Series (i3, i5, i7)
Operating System: Windows 7 Home/Professional
Display Size: 12.5-inch
Memory: Up to 8 GB
I/O Ports: Display port, 3 USB 2.0 port (1 Always One Port)
Connectivity: WiMAX/Wifi, WLAN, WWAN options
HDD: 160GB, 250GB, 320GB
Battery Life: Up to 9 hours
The Lenovo ThinkPad X220 Tablet Rental from Vernon Computer Source
This tablet PC laptop rental is one of many Lenovo models offered through the services of Vernon Computer Source. With distribution centers throughout North America, the company's international affiliates extend its rental offerings overseas for a truly global reach.
To learn more about renting laptops, contact Vernon using a quote form and receive your requested information within the hour. Alternatively, you can call 800-827-0352 to speak with a representative now.