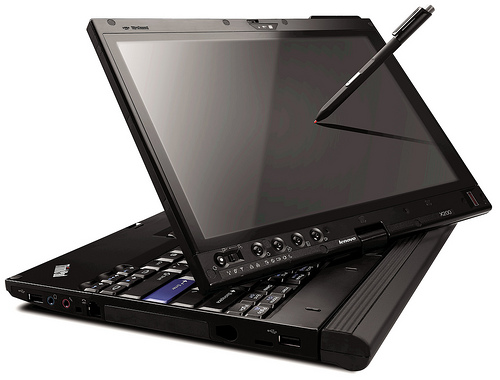 The Lenovo X Series Tablet rentals,  computer demonstrates how Lenovo became a leader in convertible tablet PCs.
As PC Magazine wrote, the X Series Tablet merges the design of the X Series ultra-portable with the functionality of a tablet. They also note that with the best keyboard in the industry and sturdy design, the X Series tablet was worthy of an Editor's Choice award from the magazine.
Vernon Computer Source offers rentals of ThinkPad X Series Tablets for short and long–term periods. Why rent a tablet PC? Consider the many advantages outlined below.
Tablet PC Advantages
A convertible tablet looks a lot like a standard notebook computer, but the screen can be rotated and laid flat on a table or desk and then written on with a stylus. As Lenovo says, the tablet PC is "as convenient and portable as a pad and pencil with the power and reliability of ThinkPad laptops."
There are many advantages to a tablet PC:
If you are attending a seminar or other business meeting, you can hand write your notes and store them in your computer. For most people, handwriting is far more efficient than typing (and it is quieter too).
You can even draw charts and pictures and have them stored on your hard drive.
The convertible tablet lies flat on the table, like a notepad, meaning there is no laptop screen to block your view.
There is no need to carry paper and pens to your meeting – your laptop performs the function of a notepad.
If you choose, you can have the software on the computer convert your handwritten notes into text.
Tablets contain all the same functionality as a standard laptop, so you have everything you need in one convenient package.
And what about the quality of the writing recognition? X Series Tablets from Lenovo are known for excellent performance in this area, making it easier for you to transcribe notes from a meeting, convert them, and drop them into a report.
Renting a Tablet PC From Vernon
Tablet PCs are known for being higher in price than standard laptops, but with rentals from Vernon, you can access this great technology for less!
Instead of buying, why not rent a tablet PC for your next business meeting? You can take notes, convert them and then save them for future use.
Maybe you are interested in tablet technology but a little uncomfortable making the commitment. Rent an X Series Tablet for a few weeks to give it a test run. If you love it (and you probably will), you can talk to us about renting to own or even buying outright from us.
To learn more about give us a call or visit our FlexQuote page. We'll get back to you fast with all the information you need.