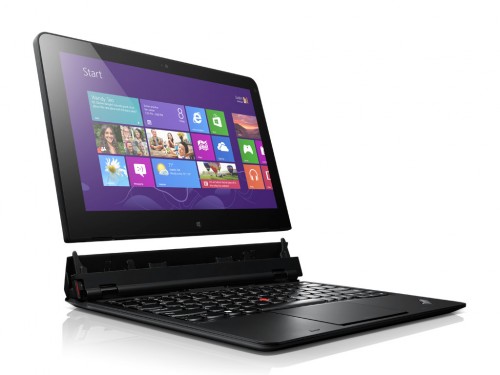 Vernon Computer Source offers rentals on brand new devices, like the highly anticipated Lenovo ThinkPad Helix. The Helix is a convertible Ultrabook from Lenovo, and has the ability to go from tablet to laptop complete with a full Precision ThinkPad keyboard. Lenovo Helix tablet rentals offer the perfect opportunity to see the device in action at your next corporate event!
 
Lenovo Helix Specifications
The Helix boasts all of the power of a business Ultrabook, making it a popular choice for professionals. Winner of 10 CES 2013 awards, the Lenovo Helix is one of the most desperately awaited tablet rentals of the year.
Four modes: Tablet mode, Laptop mode, Stand mode, and Tablet + mode
11.6" FHD 1080p IPS display
Intel Core processor, up to 2.0 GHz
Lightweight; 3.75 lbs in Clamshell mode, 1.84 lbs in Tablet mode
Front and rear facing cameras with low-light sensitivity and face tracking technology
Up to 10-hour battery life
High quality Dolby Home Theater v4 speakers
The Helix comes pre-installed with 15 apps, including Skype, Microsoft Office 2010, and Evernote.
Lenovo Helix Tablet Rental from Vernon
For business professionals, the Helix has the best that the technical world can offer. A sleek alternative to the classic office laptop, this convertible tablet can flip, fold, and "rip" into two pieces (free-standing tablet a Precision ThinkPad keyboard). Its Stand-mode capabilities make it an excellent choice for visual presentations, and outfitted with Lenovo's signature sturdy design, the Helix is built to last.
The Helix's versatility for business professionals makes it the perfect tool to transition quickly from professional to personal use, and is expected to fly off the shelves.
Interested in renting the Lenovo Helix for your team's next convention? Contact us for more information by clicking here for a fast Flex Quote!