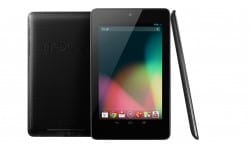 ASUS Nexus 7 Tablet Rentals: The Power of Google in the Palm of Your Hands!
Android lovers, rejoice! 
ASUS's Android tablet has been pared down to a smaller 7-inch size, making the new ASUS Nexus 7 tablet PC more portable than ever. Multifaceted and designed for speed and performance on the go, it's easy to see the appeal of a tool that can carry between your professional and personal lives!
Google's Android 4.2 Jelly Bean
Outfitted with Google's Android 4.2 Jelly Bean operating system, there's no question as to why the Nexus 7 is a popular tablet rental. This lightweight 7-inch tablet PC boasts a stunning HD display with a 1280 x 800 resolution and a fully integrated Droid system. Users already familiar with the Android OS interface will have no trouble learning the ins and outs of the ASUS Nexus 7 – your Android smartphone will even sync with your Android tablet automatically.
The Best of Google in One Device
So, what else can you expect from this Google tablet? Designed with tech media professionals in mind, the Nexus 7 tablet PC includes the best of Google in one device. The Android 4.2 Jelly Bean capabilities makes sharing contacts, websites and more to other Android tablet users possible with the touch of a button. Up to 10 hours of battery life, front facing camera, 2x digital microphone and HD speakers make the Nexus 7 the perfect tablet rental choice for team videoconferencing.
 The Perfect Travel Companion for Long Flights
Running on an NVIDIA Tegra 3 quad-core chip and up to 32 GB of internal storage makes it easy to collaborate on presentations when you're on the go — not to mention complete Google Play integration, which makes it the perfect travel companion for long flights. The dual functionality allows this powerful little tablet to transition seamlessly from business to personal use.
Connect with a Technology Expert from Vernon 
Investing in hardware for your entire team can be costly, but Vernon Computer Source offers affordable Nexus 7 tablet rentals to suit the needs of your business.  For more information on what we can do to give your team's tech-arsenal a boost, fill out the FlexQuote form.