Rent Android Tablets Here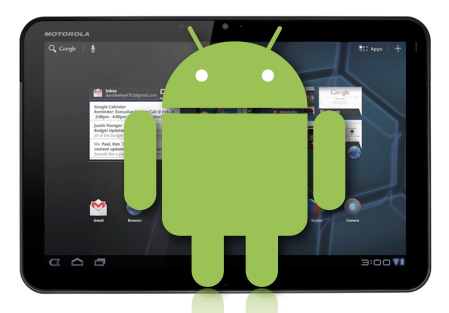 The process of selecting the ideal tablet to suit your needs is generally an evaluation of applications, operating system, and of course, price. If Android is your preference, you're in luck. Our rental fleet includes a variety of Android tablets prepared to suit your short-term tech equipment requirements.
Whether it's a trade show, corporate event, or sales trip – arm your employees with tablets and have important company data, presentations, or even survey and note-taking functions available at their fingertips.
While we have plenty of notebooks available as well, tablets are the ideal choice for mobile professionals who need the technology available while on the move.
Featured Android Tablets
Samsung Galaxy Tab: Our most popular Android tablet, the Samsung Galaxy Tab 10.1 (4G & Wifi), 8.9 or 7.0 will not disappoint.
Lenovo IdeaPad: If you're already using Lenovo products in your company infrastructure, this tablet will fit right in.
Acer Iconia: 10.1-inch, high-definition multi-touch LCD display running on a favorite operating system for business.
ASUS Nexus 7: This 7-inch tablet rental packs a punch with all the power of Google play in an easily hand-held package.
Adding more to our inventory with each new upgrade and development!
Rent an Android Tablet from Vernon Computer Source
We are a tablet rental supplier with over 30 years of experience in providing temporary technology solutions to business and government institutions. Vernon Computer Source serves companies throughout North America with quick turnaround and personal configuration. Its international affiliates further provide the rental services for events and institutions around the world.
To learn more, call 800-827-0352 or fill out a quote and a sales representative will contact you within the hour with the information you need.
Don't just take our word for it, look over our case studies and more testimonials. Here's what just a couple of customers had to say:
"They took the time to learn our business and demonstrated that they wanted to partner with us. They try to find us the best solution and if they'll can't they'll point us in the right direction."
-Customer at Veritest
"Very quick response, competent, decent price and fast delivery. They're flexible too; they actually gave me options. Different options that met our needs and saved us money."
–Customer at Pfizer