The Acer Iconia Tab W500-BZ607 Windows Tablet Rental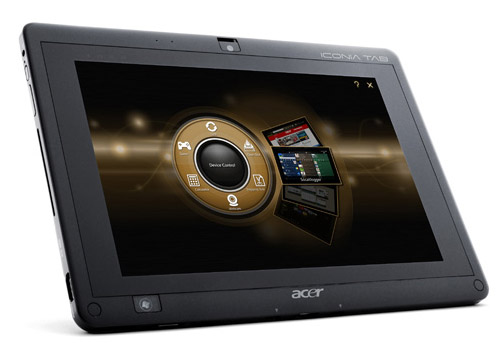 Looking to try out a Windows Tablet? Consider the Acer Iconia Tab W500-BZ607 for a 10.1-inch, high-definition multi-touch LCD display running on a favorite operating system for business.
Acer attempts to capitalize on familiarity businesses have with Windows PC through this tablet series, designed with schools, small businesses and industries like healthcare in mind.
The multi-touch capabilities of the W500-BZ607 allow users to check email, websites, cloud-based applications and access digital media from location-to-location. The Acer PowerSmart long-life 3260 mAh Li-polymer batter pack featured in the tablet can deliver up to four hours of unplugged HD video playback and six hours of Internet browser.
A Glance at Acer Iconia Tab W500-BZ607 Specifications
Display: 10.1 inches, HD (1280 x 800) multi-touch, LCD
Processor: AMD Fusion C-50 (1GHz), Dual-Core
Network: Wi-Fi, Bluetooth 3.0
Interace/Ports: HDMI, USB 2.0 (4)
Built-in Features: Webcam, microphone
Battery: 3-cell Lithium Polymer 3260 mAh (6 hour max life)
Green Compliance: WEEE, Energy Star, RoHS
Rent the Acer Iconia Tab W500-BZ607 from Vernon Computer Source
Want to try out the Acer Iconia Tab W500-BZ607 for your organization's mobile computing needs? The tablet rental fleet of Vernon Computer Source has this model among other Windows, Android and iOS models to suit the specific needs of its business customers.
To learn more about renting tablets, simply fill out a quote form or call 800-827-0352 to receive further information from a Vernon representative.