The Kensington Virtuoso Touch Stylus and Pen for iPad Rentals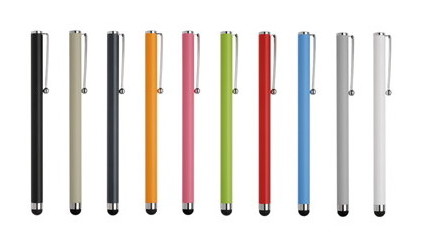 Although Apple's iPad is known for its exceptional touch capacity, we've found that customers in some professions still seek out a stylus for tasks like writing quick notes. While some may be able to type quickly enough with the tablet's touch keyboard, others prefer the feel of an actual pen as they write.
The Kensington Virtuoso stylus doubles as both a pen for actual paper, and a stylus for iPad rentals. Built for the comfortable of an actual pen, the stylus also holds enough weight to produce quality writing.  As those familiar with styluses for iPad will note, the more weight, the better quality for note-taking.
Kensington Virtuoso Touch Stylus Features
It's 5-inch body produces about twice as much weight as similar models, for enhanced writing quality
Great for quick note-taking and cursive writing
Ballpoint pen feature is refillable when ink runs out
The stylus' silicon-rubber nib is on the opposite side as the ballpoint pen cartridge
Rent this Stylus with the Latest iPad
Vernon Computer Source is a part of the world's largest rental group, providing its customers with these Apple tablets from the newest, to the original generation.  Not only do we provide you with the hardware, we supply a wide variety of additions, like this stylus to accompany our customers with special needs.
To learn more about iPad rental and the available apps and accessories, simply fill out a quote form to have a dedicated representative contact you with the information. We'll get back to you within the hour, but if you would like to speak will someone now, simply call 800-827-0352.