Rent the Sun Storage J4200 Array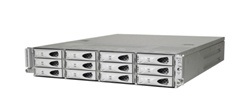 Oracle's , a 2-RU, 12 disk SCSI enclosure services (SES) system, is perfect for any company looking for a general-purpose, cost-effective disk tray system.
The J4200 operates with OE/OS (environment/operation system) for Solaris, Red Hat, SUSE, VMware (although the company notes that it is exclusive for Version 3.0.2, a Windows 2008 data host—in other words, Common Array Manager, or CAM management is not available from a host running VMware), in addition to Microsoft Windows.
Companies who choose to invest in a J4200 rental also receive support for SAS and serial advanced-technology attachment hard drives, as well as the ability to mix and match drives of any type with a single enclosure.
The Sun Storage J4200 Array Specifications
Rack Mountable: for 19 inch wide, 4 post, EIA-compatible racks or cabinets with front-to-back depth
Forty-eight scalable hardrives that can interconnect with four J4200 arrays
Access Configuration (aka zoning), allowing users to designate ownership to a specific set of disks across a single or multiple arrays
Rent the Sun Storage J4200 Array from Vernon Computer Source
Vernon Computer Source and its affiliate in the UK, Hamilton Rentals, have an array of Oracle products and other brands available to companies interested in a server rental. Together, the companies operate the largest fleet of server rentals worldwide.
If your business is looking for a disk tray system like the Sun Storage J4200 Array, give us a call at 1-800-827-0352, or visit our website for a FlexQuote.