Rent a Sun SPARC Enterprise M5000 Server from Vernon Computer Source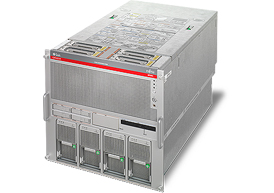 Vernon Computer Source provides a wide variety of Sun servers for rental, but among our more impressive offerings is the Sun SPARC Enterprise M5000 server.
The M5000 server offers scalability, mission-critical RAS features and virtualization capabilities in a compact space. And the M5000 was designed with longevity in mind; because of its interoperability with SPARC/Oracle Solaris, it allows for the integration of multiple generations of network processors.
But high-end, mainframe-class servers like the Sun M5000 server don't come cheap. For a company to purchase one flat out, it can equate to a significant up-front expense (nearing the six figure mark).
For a fraction of the cost, Vernon is proud to offer these Sun M5000 servers to our business clients, whatever their needs may be. Whether the servers are needed for long or short term leases, or for a rent to own scenario, our $40 million inventory hosts exactly what our clients need.
The Sun SPARC Enterprise M5000 Server's Specifications
From 2 to 8 high-density SPARC64 VII+ quad-core processors
16G to 256G of memory
One to Four CPU (CMU) – Two CPUs per board
Up to four dynamic domains supported on each system.
0RU rack optimized enclosure with PCI-X and PCIe I/O and up to 50 PCIe or PCI-X slots with optional External I/O Expansion Unit
Oracle Solaris compatibility
Rent a Sun M5000 Server from Vernon Computer Source
The breadth of Sun servers and storage options that we offer here at Vernon is nearly limitless. From entry level x86es, T-series systems, and a complete portfolio of M-series servers (from the M3, up to the M9), we carry it all.
And Vernon Computer Source caters to its corporate clientele's needs; we offer next-day delivery, on-site installation and 24/7 technical support.
For a FlexQuote on our Sun M5000 Servers or any of our other computer rental products, please visit our website.