Sun Fire X4450 Server Rentals From Vernon Computer Source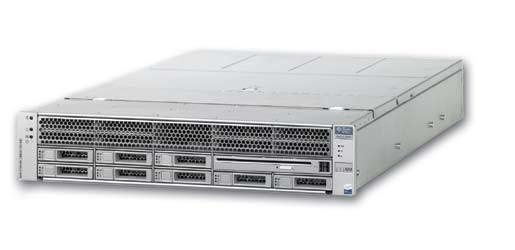 Servers take up a whole lot of space in the data center, which is why manufacturers like Sun have been developing servers with a compact, low-carbon footprint. The Sun Fire X4450 server has this compact design, combined with efficient performance.
But don't take the Sun X4450 server's minimalist footprint as implying it lacks power – in fact, the truth is quite the contrary.
Ideal for consolidation efforts, Sun X4450 is a four-socket, 2 RU x64 server offering support for several different Intel Xeon processors. Meant for maximizing uptime, simplifying system management and reducing administration costs, the Sun X4450 server is ideal for any company looking to improve their data center's performance.
Virtualization capabilities are a must, and the X4450 offers the flexibility to choose nearly any of the leading operating systems (OS) – among them, Oracle Solaris, Linux, Windows and VMware.
Sun Fire X4450 Server Specifications
World's smallest four-socket x64 server (among tier-one vendors)
Support for 24 processor cores, 32 memory slots and 8 disks in a 2 RU form.
Minimal, efficient design
Integrated Power Management
Virtualization on a variety of platforms, including the Oracle Solaris, Linux, windows and VMWare
Rent a Sun Fire X4450 Server From Vernon Computer Source
The X4450 server is one of many Sun products that Vernon Computer Source offers its customers. Out of its $40 million inventory, Sun offers several servers for rent, including x86s, T-series systems and a complete portfolio of M-series servers (from the M3, up to the M9).
But we also offer server rentals from other leading companies, like HP, Apple, Dell, Lenovo, IBM and more.
We give benefits well and above those of our competitors: flexible contracts, on-site delivery and installation as well as 24/7 technical service.
For a quick, hassle-free quote, apply for a quick and easy FlexQuote.