Rent the Sun Fire X2200 Server
For businesses operating on high-performance computing clusters, the Sun Fire X2200 Server from Oracle is the perfect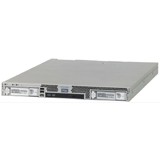 match, running memory-intensive applications like Abacus, Fluent and PowerFLOW and high-scale Web application architectures.
The server enhances the ease of management with Embedded Lights Out Manager (ELOM) and Sun xVM ops center software, in addition to running Solaris OS, Linux, Windows and VMware. With up to 2 TBs of on-system storage and 64 GB of memory capacity, the Sun Fire X2200 is ideal for midsize companies and is designed for growth and scalability.
The Sun Fire X2200 Server Specifications
Processor: AMD Operteron Quad-core Processors: 2356, 2354, 2384, 2376
Quad Core Processors: 512 KB L2 cache per core; 2MB L3 cache per processor
Enhanced Quad-Core Processors: 512 KB L2 cache per core; 6 MB L3 cache per processor
Network: Four Integrated 10/100/1000Base-T Ethernet ports
Serial: One Serial DB-0 Port (on rear)
USB: Six USB 2.0 ports – two front, four rear
Height: 43 mm (1.7 inches) Width: 425.5 mm (16.8 inches)
Rent the Sun Fire X2200 Server from Vernon Computer Source
Vernon Computer Source has an expansive server rental selection with a variety of models to choose from, businesses of all sizes and operating systems are covered.
If your business can benefit from renting a Sun Fire X2200 server, give us a call at 1-800-827-0352, or visit our website for a FlexQuote.