Sun 7210 Unified Storage System Rentals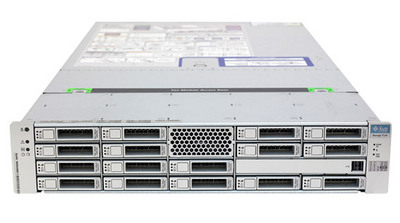 Vernon Computer Source offers a variety of Sun server and storage systems for businesses looking to rent high-density, energy efficient and compact solutions.
The Sun Storage 7210 system offers up to 142 terrabytes worth of storage in an easy to manage infrastructure. Whether its needed for unified storage, HPC, Web 2.0, server virtualization, database/BIDW or system backups, the Sun 7210 can be used across a great breadth of applications.
Sun's 7210 storage system is developed with enterprises in-mind, as all conceivable SW options are already inclusive within the storage unit's price.
Sun 7210 Unified Storage System Specifications
Supports J4500 Expansion Arrays
4 x 10/100/1000 Ethernet
Designed for ease of analysis and optimization
Hybridized storage pool for Write Flash Accelerator (SSD)
DTrace Analytics Access
Compatible with enterprise data services
Offers up to 46 TB in a compact 4U form factor
Rent a Sun 7210 Unified Storage System from Vernon Computer Source
Vernon Computer Source offers over $40 million worth of computer rental inventory, including a variety of Sun servers, from x86es to X4450s and M5000s. We are happy to count the 7210 storage system among our rental offerings.
With global locations, next-day delivery and on-site installation, you can easily have a Sun 7210 unified storage system at work for you and your company in no-time.
Just visit us here for a hassle-free FlexQuote.