The IBM System x3650 M2 Quad-Core Xeon Server Rental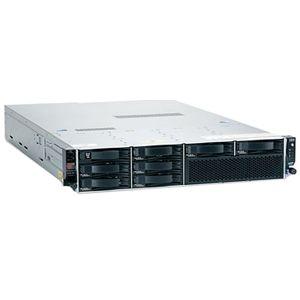 Organizations seeking an a server designed for virtualization, the IBM System x3650 M2 Quad-Core Xeon may be an ideal choice. This machine delivers quad-core computing using Intel Xeon 5500 Series processors. With QuickPath Interconnect technology, the x3650's Energy-Star compliant design shows enhanced performance per watt than its predecessors.
A few highlighted features of this server include the Integrated Management Module (IMM), Virtual Media key option, and IBM Systems Director Active energy manager.
A Glance at IBM System x3650 M2 Specifications
2.26 GHz
5.86 GT/x
RAM 8 GB
2x 300 GB HS SAS 10K rpm
ServeRAID Controller
DVD-ROM LAN (4 x)
Gigabit EN (2 x)
675 Watts Power Supply
No Rails
2U Rack
DAT ( 80 GB / 160 GB) DDS-6
Machine Type: 7947
Rent the IBM System x3650 M2 from Vernon Computer Source
At Vernon Computer Source, we supply a wide range of server rentals to the IT departments of companies around the world. Our inventory is comprised with equipment from the industry's leading manufacturers—with numerous options from IBM.
To learn more about renting the IBM System x3650, or any other model, simply fill out a quote form to have a Vernon associate provide you with more information within the hour. You can also call us at 800-827-0352 to speak with a representative now.