The IBM System x3550 M3 Server Rental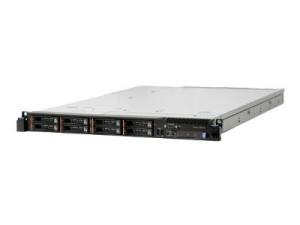 For those seeking a server with high performance per watt serving both energy and cost efficiency, the IBM System x3550 M3 rack server's flexible design can ease management and serviceability for your IT team.
This model has twice the performance of previous generations integrated with low-wattage components to save your organization money.  IBM has also designed the x3550 to simplify risk management through its resilient architectures and virtualized environments.
For those organizations requiring testing measures for their infrastructures, or that of their customers, the IBM System x3550 is readily available for rent.
A Glance at IBM System x3550 M3 Specifications
Chassis: 1U
Processor: 2 x Dual-Core Xeon 3 GHz/4 MB, FSB 1333 MHz
RAM: 16 GB
Hard Drive: 3×146 GB
CD-RW / DVD
ServeRAID 8k-l
LAN Gig EN
Form Factor: Rack
Rent IBM System x3550 M3 from Vernon Computer Source
No matter the size or location of your business, the server rental offerings from Vernon include a tiered level of models from the industry's leading manufacturers like IBM, HP and Oracle Sun systems. Our international divisions further allow Vernon to provide these services beyond North America, around the globe.
To learn more about these offerings, feel free to contact 800-837-0352 or fill out a quote and a sales team member will contact you within the hour.