Enter the Virtualization Realm and Rent an IBM Power 770 Server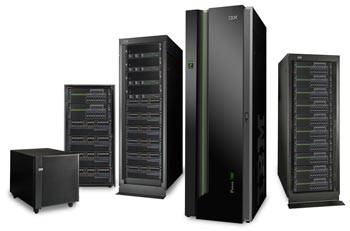 Need a top-performing server that's highly threaded and highly scalable? We've got what you need in our IBM Power 770 server rental units.
Our IBM Power 770 servers, backed by the latest Power7 processors, have the strength to energize cloud hosted environments. With a max capacity of eight cores (each can fuel four threads) and up to 32 tasks can run at the same time.
With PowerVM virtualization, partition mobility, active memory sharing and integrated Virtual Ethernet, this server rounds out the field as a top performer for the cloud-friendly industry.
Our Power 770 Server Rental Specifications
Before we rent out our servers, we make sure the configuration is set to your specification. In general, however, the Power 770 boasts these specs:
POWER7 processor with 45-nm technology, clocking at 3.0-4.14Ghz
Level 3 caching delivers better performance
Power VM Virtualization Compatible
Two Standard 3.1 GHz POWER7 processor modules (max of eight)
Two sockets per building block (max of eight)
Up to six SFF and SFF SAS drives
Six High-Performance Adaptors (For PCI and 8x)
Integrated Virtual Ethernet
Friendly to

UNIX

, IBM I and Linux platforms
Rent an IBM Power 770 Server from Vernon Computer Source
We serve a variety of different business sizes and types, we're happy to stock servers that fit every need. From our x86 units to our M5000, we are able to offer next-day shipping, great customer service and cheaper shipping costs due to our many warehouse locations.
To take advantage of our server rental options, feel free to fill out a hassle-free FlexQuote. We'll get back to you within an hour with pricing.