Rent the HP Proliant ML570 G4 Server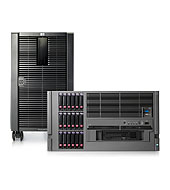 As the industry's first four-processor expansion server, the HP Proliant ML 570 G4 Server offers exceptional performance and increased reliability for companies seeking hot-plug Raid memory, powerful management and an unmatched internal expansion.
The notable expansion capabilities include a 64GB max memory, allowing support for up to 18 small form factor (SFF) SAS drives and 10 PCI I/O slots. This server's expandability and reliability are ideal for data centers and remote enterprise environments.
The HP Proliant ML570 G4 Server Specifications
Supports up to four Dual-Core 64-bit Intel Xeon Processors and HT Technology, with Dual Independent 800MHz Front Side Buses with L3 shared cache
Intel Dual-Core 64-bit Xeon processor 7000 sequence
Industry Standard Intel E8501 chipset
Maximum 64 GB of 2-way interleaved PC2-3200 Registered Memory (DDR2-400) with Advanced ECC capabilities; 4 GB (4 x 1 GB) standard on High Performance models
Advanced Memory Protection including Hot-plug RAID Memory, Hot-plug Mirrored Memory and Online Spare Memory
Optional hot plug redundant power supplies and cooling fans
High performance models: Hot plug redundant fans and power supplies standard
Rent the HP Proliant ML570 G4 Server from Vernon Computer Source
If your company requires reliable handling of massive enterprise data production, look to HP servers to run your data center. Instead of investing in the hefty cost of buying a server, consider renting from Vernon Computer Source or its U.K. affiliate, Hamilton Rentals. Together, the companies offer the largest server rental fleet in the world and are ready to supply your company with servers from the industry's top brands.
To learn more, call 1-800-827-0352 or request a quote online.