Rent the HP ProLiant ML310 G5 Server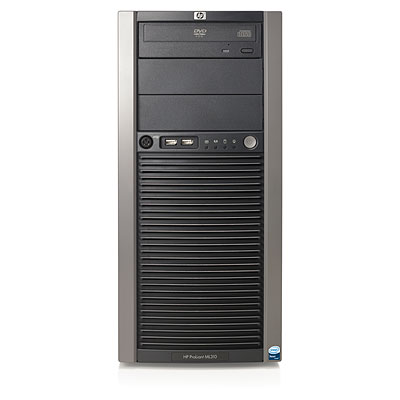 Among the line of elite servers from Hewlett Packard is the HP ProLiantML310 G5 server, particularly useful for SMBs and small IT companies. The cost of purchasing a server always amounts to a hefty sum, compounded with the worry of maintenance, depreciation and inevitable disposal – making it difficult to find a suitable fit for companies of this size.  Server rental is often the solution for companies in this position. 
The HP ProLiant ML310 G5 has the network capacity to run SMBs at an affordable price. The server comes with the power of Intel's Dual core Core2 processor, known for its data protection and secure features to help any business of this size run its operations smoothly.
The HP ProLiant ML310 G5 Server Specifications
Number of processors: 1
Processor core available: 4, 2 or 1
Maximum memory: 8GB
Memory slots: 4 DIMM slots
Memory type: (1) 1GbE NC326i 2 Ports
Maximum drive bays: (4) SAS/SATA – Hot Plug
Supported Drives: Hot Plug 3.5-inch SAS, Hot Plug 3.5-inch SATA
Storage Controller: (1) Integrated SATA
Rent the HP ProLiant ML310 G5 Server from Vernon Computer Source
Here at Vernon Computer Source, we have an expansive server rental inventory,  with plans available for both short and long-term IT needs. 
If your business can benefit from renting a HP ProLiant ML310 G5 server, give us a call at 1-800-827-0352, or fill out a FlexQuote to see how we can serve you.