Rent a ViewSonic PJL6243 3LCD Projector for Your Next Meeting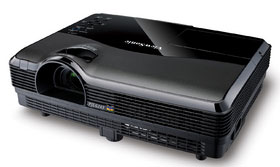 ViewSonic's brand new PJL6243 serves as a great projector rental suitable for both boardroom and classroom. The PJL6243 delivers a 1024 x 768 XGA resolution and has 2600-3000 ANSI lumens.
An embedded, automatic keystone correction system displays perfectly oriented, square images on any wall, and integrated 3LCD True Color Technology cultivate color-accurate, true-to-life images designed to bring any presentation to life.
The PJL6243 is an exceptional, cost-effective solution that does not require a mounting or cart-driven configuration. And, as one last bonus, the ViewSonic PJL6243 3LCD projector is eco-friendly — its lamp life can last up to 6,000 hours.

ViewSonic PJL6243 3LCD Projector Rental Specifications
Eco-friendly
Portable
215 Watt
3.6 Ft Throw Distance
XGA 1024×768 native resolution
4:3 Aspect Ratio
3000 ANSI Lumens
Rent a ViewSonic PJL6243 From Vernon Computer Source
We stock over $40 million in IT rental inventory from the world's top manufacturers – Lenovo, IBM, HP, NEC, Sony, Samsung, LG and others. From laptops to tablets to other projectors (besides the PJL6243) we have whatever products our business clients may require.
With exceptional customer service, next-day delivery and international offices from London to Toronto to Tokyo, we are uniquely poised to deliver service on a global scale.
Need flexibility? No problem! We can change the terms of your rental to whatever you need. That's part of the beauty of doing business with us.