Harness the Power of the Future: Rent a Sony VPL-VW90ES 3D Projector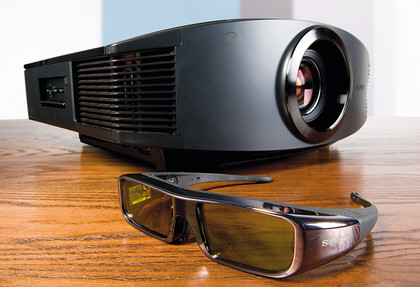 We dare you to try and say "Sony VPL-VW90ES" three times fast.
It's quite a difficult to wrap your tongue around, but it's a great product that merits mentioning. Sony's 3D projector is the latest descendant in a line of products known for innovation.
3D projectors and plasma screens are all the latest rage, and it makes sense that one of the industry's leading IT manufacturers would step up with a respectable option. Sony's VPL-VW90ES is designed to bounce IR codes off of a screen. An integrated lens bounces transmissions off of the included "Active Shutter Spectacles," which are essentially just 3D goggles.
A down-side of the VPL-VW90ES is that it is really ideal for small audiences or presentations. But for the small corporate gatherings you really want to make an impression with, this state-of-the-art 3D projector fits the bill.
For larger presentations, a supplemental 3D transmitter can be included.
Sony's VPL-VW90ES 3D Projector Rental Specifications
Built-in active 3D playback.
A 240HZ SXRD panel
MotionFlow Processing Power
3D to 2D Conversions
150,000:1 DCR
For "Elevated Standards," Rent a Sony VPL-VW90ES 3D Projector From Vernon Computer Source
Cutting-edge technology often comes with equally cutting prices. And this is a major reason why our corporate clientele often turn to us – we're the world's largest provider of IT equipment. We offer many kinds of products to suit any projector rental needs.
To purchase a 3D projector flat out for a conference, trade show or event, the cost can be astronomical – because it's a new, rare technology. Renting such a projector can accommodate needs in every budgetary range, and places the power in the hands of small-, medium- and large-sized businesses.
For a hassle-free FlexQuote, contact us today.