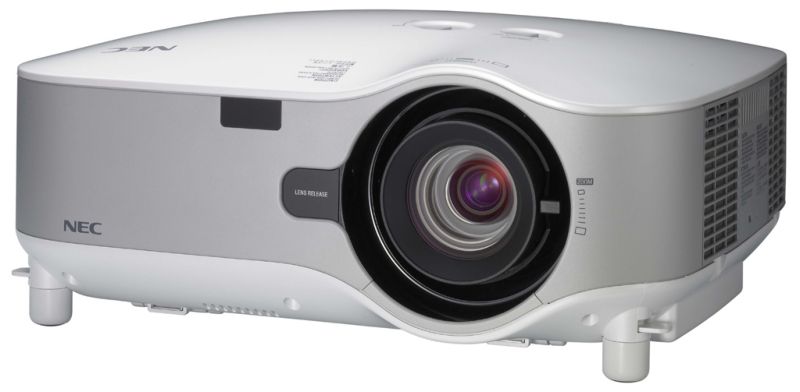 The NEC NP3250 is a cool breath of fresh air – it auto-corrects the output from four different projectors, allowing image boosting of up to 20,000 lumens.
Perfect for tackling large screens or bright areas, customers utilizing our NEC NP3250 LCD projector rental offerings are guaranteed to view superior images.
And, because this state-of-the-art LCD projector seeks out nearby computer signals, syncing up is a true cinch.
Our NEC 3250 LCD Projector Rental Features and Specifications
Inherent, Impressive Specs: Native XGA 1024×768 resolution, 600:1 contrast ratio.
Ports aplenty: VGA, Component, BNC, DVI-D, RCA, S-Video, and Mini Stereo terminals.
Geometric Correction:Allows for the projection of "square" images on non-flat surfaces.
Eco Mode: Cuts down on energy usage and preserves lamp life.
Lumen Stacking: With 5,000 base lumens that can be stacked up to 20,000, this projector makes for one bright idea.
Rent a NEC 3250 LCD projector From Vernon Computer Source
For a top-of-the line LCD projector that can be stacked to allow for up to 20,000 lumens, the NEC NP3250 is the perfect option. And, because it's fancy, new, and well – excellent – the price-tag reflects all of those facets. Luckily, we have the ability to rent these devices – as well as many others — for a fraction of the cost to purchase.
Our businesses don't need to spend thousands upon thousands of dollars to afford this cutting-edge technology. They can take advantage of our vast inventory and international infrastructure to get the very best shipping rates to regions around Tokyo, Toronto, Seattle, Stamford, Sydney, Paisley, Hong Kong and beyond.