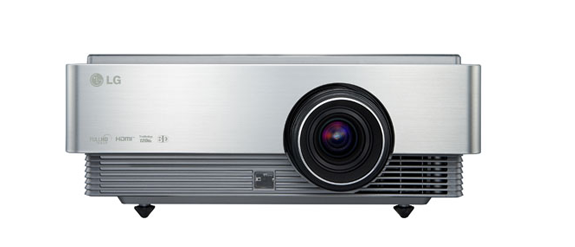 The future of projection technology is here with the world's first one body, dual engine, full HD 3D projector from LG; the CF3D.  The company boasts the projector's 3D picture is one that they can only describe as "truly world-class." This exceptional machine further allows viewers to enjoy a 3D experience without the accompaniment of expensive shutter glasses, but rather the standard passive glasses you might see at a movie theatre.
The CF3D projector rental supports full HD 1920 x 1080p resolution with the addition of an HDMI cable, as well as advanced TruMotion 120Hz technology for a clear picture free of blur for fast moving multimedia. The 3D auto Picture Calibration further auto-adjusts for brightness with its built-in camera to maximize 3D affects.
A Glance at LG's CF3D Projector Specifications
Projector Type: Full HD – 3D Ready
Native Resolution: 1080p (1920 x 1080)
Brightness: 2500 (2D), 1250 (3D)
Contrast Ratio: 7000:1
Throw Ratio: 1.58/2.1
Standard Projection Image: 100 @ 3.2m
Dimensions: 22 x 20 x 7 inches
Rent the LG CF3D Projector from Vernon Computer Source
No matter the size of your event, or your organization, the dedicated specialists at Vernon Computer Source will provide you with the right technology, at the right price to make your project a success.  Our rental inventory is lined with products from the industry's leading manufacturers, configured with the right specs and the right accessories to meet your exact requirements.
To learn more about projector rental at Vernon, simply fill out a quote form and a representative will provide you with the information within the hour.  Alternatively, you can always call 800-827-0352 to speak with a Vernon team member right now.