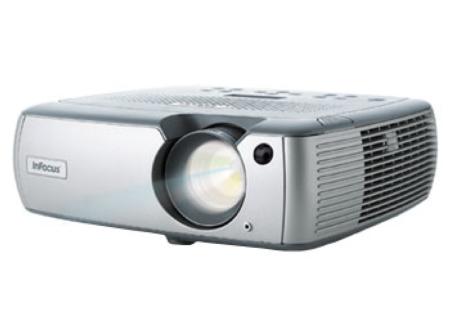 When you need a projector with a sleek design and high-end features for a meeting, conference, or other function – the LP640 projector from InFocus may by the ideal model for your organization.
This projector rental provides wireless connectivity, out-of-the-box networking capability, extensive connectivity including audio input, video and audio inputs, monitor and audio loop, RS232, and stereo audio.
Providing a perfect square image at 2200 lumens strong, the LP650 also features automatic vertical and horizontal keystone correction and automatic image synchronization with your computer.

A Glance at the Specs
Brightness: 2200 ANSI
Contrast: 400:1
Weight: 7.5 lbs
Dimensions (HxWxD): 4.1 x 11.6 x 10.3 inches
Throw Distance: 5.0 – 33.0 feet
Image Size: 39.5 – 309.4 inches
Display Type: LCD
Native Resolution: 1024×768
Maximum Resolution: 1400×1050
Aspect Ratio: 4:3 (XGA)
Light Source: 170W UHP
Speakers: 2.0 W x 2
  
Rent the InFocus LP640 Projector from Vernon
When you choose to rent from Vernon, you have the full support of a comprehensive rental provider with around-the-clock customer service and technical support. Vernon's inventory is comprised of hardware from the market's leading manufacturers, ranging in a diverse variety of specifications to serve the different needs of organizations and their budgets. With distribution centers throughout the United States and Canada, groups across multiple industries are served by Vernon for short-term technology needs.
To learn more about renting projectors or other devices, fill out a quote request to have a representative provide you with all of information you need – within the hour.