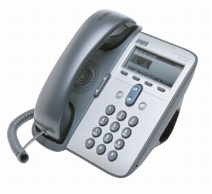 Do you have an important, off-site event coming up that you need a temporary Cisco VoIP phone installation for? Vernon Computer Source has a tailor-made solution perfect for you.
Vernon has installed large-scale Cisco VoIP systems on behalf of international clients in the past. We have provided a world-class telephony architecture extending through 17 extensions and 11 POTS lines — but we can configure to any specification.
Our Cisco VoIP Rental Bundle Package Includes:
20 Cisco 7912G Unified VoIP Phones
1 Cisco 2801 Integrated Services Router
3 Cisco 500 ESW Series Switches
One T1 or 12 FXO PSTN Ports
Installation
Removal
All Programming, Hunt Sequences and DID
Inclusion of Cisco Unified Communications Manager Express 4 Software
Equipment Specifications
The Cisco 7912G Unified VoIP Phones have intuitive keys, pixel-based display and are VLAN configured with an integrated Ethernet switch. These 7912Gs are capable of supporting all of the high level call features you expect – call waiting, call forward, call transfer, three-way-calling, on-hook dialing. They also offer more advanced features, such as voice activity detection, silence suppression, comfort-noise generation, and error concealment
The Cisco 2801 Integrated Services Routers offer on-board encryption, up to 800 VPN tunnels, mid-to-high density analog and digital voice capability with IP telephony, integrated dual 10/100 ports and high-performance simultaenous security, voice and advanced services to multiple T1/E1 WAN rates.
The Cisco 500 ESW Series Switch provides wire-speed fast Ethernet and Gigabit Ethernet connectivity, quality of service (QoS), integrated security and Power over Ethernet (PoE) to support any business requirement imaginable.
Renting a Cisco VoIP Bundle From Vernon
Our all-inclusive Cisco VoIP rental bundle packages can give you the level of service you need for a fraction of the cost you might expect — $7,000 for a one month rental. To schedule your installation today, please call Vernon Computer Source at or click here for a FlexQuote.