Rent the MSI X-Slim X350 Notebook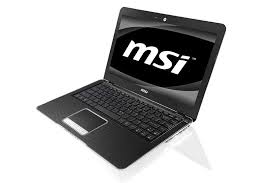 With a 13 inch display, smooth curves, chrome trim and glossy finish; the MSI X-Slim X350 Notebook will make for one slick, stylish laptop rental.
Comfortable to use and easy to carry, this laptop will provide your employees with the convenience of portability (weighing only 3.8 pounds) and a tapered design, comparable to its famous counterpart, the MacBook Air. The 95 mm deep palm rest will give them the luxury of typing with ease.
While not optimized for gaming, the laptop will perform to any business standard when it comes to checking email or browsing the web, preparing presentations or data in Microsoft Office or streaming video.
The MSI X-Slim X350 Notebook Specifications
Processor: 1.3 GHz Intel Core 2 Duo SU7300 CPU
Dimensions: 8.8 x 13 inches; 0.3 to 0.8 thickness
Weight: 3.8 pounds
Battery: 8 cell (life—7 hours 5 minutes)
Ports: VGA, HDMI out, Ethernet, 2-in-1 memory card, two USB and 2 Audio
Webcam: 1.3 megapixel
Choose the MSI X-Slim X350 Notebook for Your Laptop Rental
Vernon Computer Source provides the largest laptop rental fleet in the world, carrying models from the world's leading manufacturers. For businesses looking for convenient, portable, lightweight notebooks for their employees on-the-go, the MSI X-Slim X350 is just one of many options available.
To learn more about our offerings, call us at 1-800-827-0352 or fill out a FlexQuote and one of our sales representatives will assist you shortly.