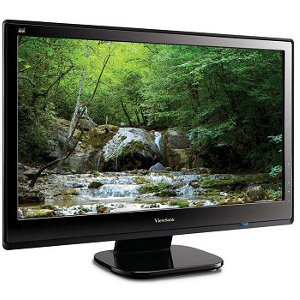 Of the latest innovations from one of our premiere LCD monitor manufacturers, ViewSonic, comes a new LCD large format graphics and professional monitor — the VG2732m-LED.
With a 27-inch display and a full HD (1920 x 1080) resolution, the VG2732m utilizes Advanced MVA (AMVA) LED panel technology for a unique experience by our rental customers. 
The company maintains that the monitor is geared toward those who are seeking a professional grade LCD monitor where true picture, color quality and total screen viewing is a requirement — like those seeking out an impressive display for a trade show or an exhibition displaying the work of those from marketers to artists. 
Wherever your organization's specialization lies, your work should not be compromised with a sub-par display.
The ViewSonic VG2732m-LED Specifications
Type: LED
Display Size: 27-inches
Resolution: 1920 x 1080
Brightness: 300 nits
Viewing Angles: 178 / 178
Contrast Ratio: 20,000,000:1 MEGA
Adjustment Options: 90-degree pivot, height adjustment, tilt and swivel
Connectivity: DisplayPort, DVI-D, VGA, 4-port USB hub
Rent the ViewSonic VG2732m-LED from Vernon Computer Source
At Vernon Computer Source, we supply LCD monitor rentals to companies of all sizes — around the world.  Our distribution centers are located across the country, and our affiliates are spread out all over the globe.  We bring our customers quality displays from the industry's leading manufacturers, like ViewSonic, NEC and Samsung.
To learn more about our services, give us a call at 1-800-827-0352 or fill out a FlexQuote and one of our sales representatives will be happy to assist you.