Rent the HDTV-Ready ViewSonic VPW4255 42-inch Plasma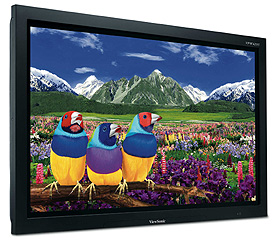 Get the enhanced picture of plasma technology using the HDTV ready ViewSonic VPW4255 42-inch plasma display. The VPW4255 support all data sources and video signals through HDTV, Enhanced Definition Television and standard television, and broadcast your multimedia through a 1024 x 1024 native resolution.
Inputs available for outside devices include S-video, analog RGB and DVI/HDCP. Users can also customize viewing for Picture-in-Picture, split-screen or full-screen windows for data, video and TV signals. Whether you plan to use a stand, or to mount the display, we can provide the tools to meet your specifications.
The company has said the ViewSonic VPW4255 can exceed customer expectations whether in a home theater or a corporate environment with its "outstanding screen performance and life-like picture clarity."
The ViewSonic VPW4255 42-inch Plasma Specifications
Diagonal Size: 42 inches
Viewing Angle: 160 degrees
Resolution: 1024 x 1024
Display format: 1080i
Image aspect ratio: 16:9
Image contrast ratio: 1000:1
Brightness: 1100.0 cd/m2
Dimensions (W x D x H): 40.6 x 3.5 x 25.0 inches
Weight: 76.9 lbs
Choose ViewSonic VPW4255 for your Vernon Computer Source Plasma Rental
Vernon Computer Source has a massive selection of LCD and plasma screen rental options suited to cater the needs of companies and events of all sizes. With distribution centers throughout the country and affiliates all over the world, we can supply your organization with your display needs—just about anywhere.
To learn more about our offerings, call us at 1-800-827-0352 or fill out a FlexQuote and one of our sales representatives will contact you shortly.