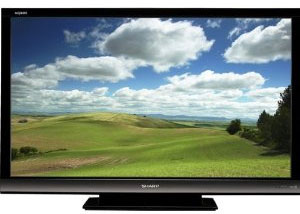 If you have an upcoming event that requires a full-high definition display with plenty of connectivity options for external devices, you may consider the LC60E79U from Sharp; providing 60-inches of high-quality display technology.
The high performance LCD panel of the LC60E79U performs with a 4ms response time through wide viewing angles and a high contrast ratio. Its 120Hz Fine Motion Enhanced frame rate is ideal for streaming fast-moving multimedia. The brightness of this monitor allows for uninterrupted viewing in any location, and as a great LCD monitor rental for events, a wall mount is available upon request.
Display Size: 60-inches
Display Type: High Performance LCD Panel
Frame Rate: 120Hz Fine Motion Enhanced
Resolution: Full HD 1080p (1920 x 1080)
Aspect Ratio: 16:9
Ports: 4 HDMI Inputs; 2 1080p compatible HD Component; 4 RCA Audio Inputs (L/R); 1 15-pin D-sub for PC, RCA (A/V) x 2 for Composite Video; 4-pin DIN x1 for S-Video, 9-pin x 1 for RS-232C
Series: AQUOS
Rent the LC-60E79U Monitor from Vernon Computer Source
The LCD monitor rental selection from Vernon Computer Source comes from the largest fleet in the world, comprised of models from the industry's top manufacturers in a variety of sizes. For events both big and small, we have the display technology to suit your needs and your budget.
To learn more about these services, fill out a quote form to have a dedicated specialist contact you with more information. You can also call 800-827-0352 to speak with someone now.