Rent a 19″ Samsung LE19D450 HDTV LCD and Add a Touch of Color to an Event or Presentation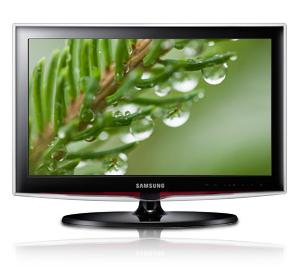 For customers requiring multiple LCDs in their event or trade show booth, we are happy to carry a variety of 19″ models, such as the Samsung LE19D450 HDTV LCD.
The LE19D450 delivers around two times the onscreen resolution as competitors' models, and it allows connectivity with a variety of different devices. Thanks to the advent of proprietary Samsung features, this LCD display is small and sleek – designed to tech-up the appearance of any conference room.
While the Samsung LE19D450 HDTV LCDs we rent out have aesthetic appeal right out of the box, there's one additional feature that makes them exceptional – and that's Samsung's "Touch of Color" (ToC) proprietary feature. Mounted within the screen's bezel, this innovation, crafted out of black-rose material, subtly changes the display color in various lighting conditions.
So no matter what the circumstances may be, this 19″ Samsung LCD shines.
Our 19″ Samsung LE19D450 LCD Rental Specifications<
1366×768 resolution
16:9 image aspect ratio
720p
Supports 480i, 480p, 576i, 576p, 720p
Offers usage of MP3, DivX, JPEG
Audio visual, audio, component, SCART, RGB, VGA, HDMI and USB connectors
Built-in HDTV tuner
Hidden speakers
Rent a 19″ Samsung LE19D450 HDTV LCD from Vernon Computer Source
We stock over $40 million dollars in LCD monitor rental inventory, and that means that we have a variance in available sizing and quality options. We count Samsung, Panasonic, Sharp and other leading manufacturers among our product providers – guaranteeing the most up-to-date, top quality available.
With international shipping from our offices in Tokyo, Toronto, Hong Kong, Sydney, Paisley, Raleigh, Atlanta, Minneapolis, Seattle, Stamford, Frankfurt, London and beyond, we pride ourselves on being able to service a multitude of locations.
And it doesn't hurt that our logistical infrastructure certainly keeps our shipping costs down… for our customers.