Panasonic TH-50PF10EK- Fantastic HD Display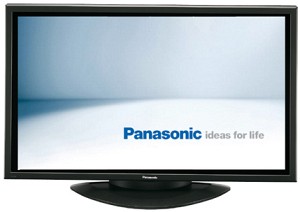 Don't display your work on just any screen—your efforts deserve the quality, high definition picture from models like the Panasonic TH-50PF10EK, designed specifically for professional use.
Whether it's a trade show, a meeting, or even an exhibition in a museum—this plasma display offers a 1080p high definition picture with a 50 inch display. The TV features several other tools only available in the company's professional line of HD displays, like a weekly command timer, dual picture mode, digital zoom and a built-in video wall image enlarger.
Users can also take advantage of the energy-saving functions of the display, like DPMS, auto power off and power save mode.
The Panasonic TH-50PF10EK Specifications
Screen Size: 50 inch
Aspect Ratio: 16:9
Effective Display Area: 1,106 x 622 mm
Resolution (H x V): 1920, 1080 pixels (1 pixel = 3 cells for R, G and B)
Pixel Pitch (H x V): 0.576 x 0.576 mm
Dimensions (W x H x D): 1,210 x 724 x 95 mm
Weight: Approximately 36 KG (80 lbs.), with speakers 40 KG (88 pounds)
Rent your Plasma of LCD display from Vernon Computer Source
Vernon Computer Source carries an expansive plasma and LCD TV rental, and can service locations through the U.S. and Canada. We care models from top manufacturers like Panasonic, Samsung and Sony and can suite your needs whether you need a 32 inch or a 65 inch display.
To learn more about our offerings, give us a call at 1-800-827-0352 or fill out a FlexQuote and one of our sales reps will get back to you shortly.