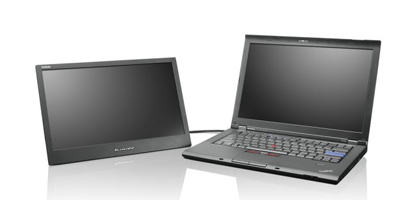 Lenovo has continuously pleased the business community with its various laptops and all-in-one computers, but now the company has released an innovation in monitor technology; describing the ThinkVision LT1421 Wide Monitor the "perfect ThinkPad Companion."
This monitor was designed for the traveling business executive with lots of ideas to show, and little room in her or his travel bag. This slim, lightweight monitor allows users to give presentations on-the-go with the simple addition of a USB cable.
Don't have a projector available? Just plug in the LT1421 to your laptop and display thought leadership with your presentation…and your hardware.
A Glance at Lenovo's ThinkVision LT1421 Specifications
Panel size: 14″ Wide
Aspect Ratio: Wide (16:9)
Resolution: 1366 x 768
Contrast Ratio: 400 : 1
Tilt Angle (front/back): 12° ~ 40°
Viewing Angle (H/V): 90 / 50
Bezel Width: 12.1mm
Video Input Signals: USB (2.0)
Dimensions (D x H x W): 21.5 x 217.9 x 335.0mm
Rent the Lenovo ThinkVision LT1421 Monitor from Vernon Computer Source
With a variety of options in our monitor rental lineup, companies seeking rentals for trade shows, meetings, training and other expos come to Vernon looking for the right match for their specific needs. From 19-to 65 inches, HD/LCD/LED – name your requirements and we bet they can be met with our services.
To learn more about renting IT and AV equipment, contact us at 800-827-0352 or fill out a quote and we'll get back to you within the hour.