Try the HP LP2065 20″ LCD Monitor Rental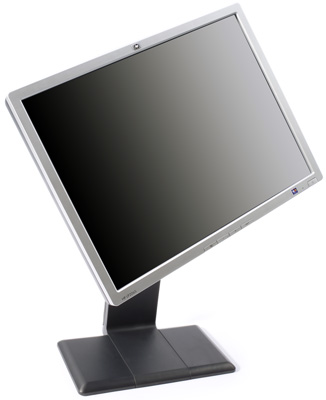 As flat screen, LCD monitors have maintained popularity in the desktop PC space, manufacturers like Hewlett-Packard have produced people-pleasing models like the HP LP2065. With a 20-inch display, the LP2065's flat panel screen further features an active matrix, thin-film transistor (TFT) LCD display that produces a picture with a 1600 x 1200 resolution.
Whether you chose to use the monitor on your desktop or as a display at an event, the wide viewing angle allows viewers to see the picture clearly sitting, standing, or moving side-to-side. The flexibility of the monitor allows you to adjust its settings for your comfort with tilt, swivel, and high adjustment functions.
A Few HP LP2065 Specifications
Display: 20.1 inches
Display Type: active matrix, thin-film transistor (TFT) liquid crystal display (LCD)
Resolution: 1600 x 1200; with full-screen support for lower resolutions
Video Inputs: DVI analog and digital signal
USB 2.0: one up stream, four downstream
Energy Saver: meets requirements for reduced power consumption
Adjustments: Tilt, swivel, height
Rent the HP LP2065 LCD Monitor from Vernon Computer Source
Vernon Computer Source has a large selection of LCD monitor rentals available from the industry's top manufacturers like HP, Lenovo, NEC and Samsung. Our distribution centers are located throughout the country, and our international affiliates allow us to provide services around the world.
To learn more about our offerings, give us a call at 1-800-827-0352 or fill out a FlexQuote and one of our sales representatives will be happy to provide you with further information.