Rent a 20″ HP L2025 LCD Monitor for Events and Trade Shows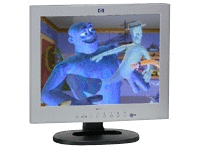 The HP L2025 is a great 20″ LCD rental unit that can be utilized at conferences, events and trade shows. Also known as the Compaq TFT2025, this dependable display has faster response rates than certain competitor models. It also offers support for intensive graphics applications such as CAD/CAM, 3D modeling and trading functions.
The HP L2025 is a slim profile screen able to combat some of the best CRTs on the market – and best of all, it is compliant with EPA Energy Star standard. So not only do our customers get a crystal clear image – they get it responsibly.
Our HP L2025 LCD Rental Specifications
20.1″ Active Matrix TFT LCD display
170-degree viewing angles
Max resolution of 1,600 x 1,200
VGA, composite video, s-video, D-sub VGA and DVI-I ports
Compatible with wide gamut of graphics controllers from ATI, NVIDIA and Matrox
Flexible mounting options
Rent a 20″ HP L2025 LCD Monitor from Vernon Computer Source
Vernon Computer Source is the world's largest supplier of computer, iPad, tablet and LCD rentals. With stock from Samsung, Lenovo, HP, Toshiba, Apple, and other leading industry suppliers, the company boasts over $45 million worth of inventory.
Its LCD selection is quite varied, and includes several 19″, 20″, 32″, 42″, 48″, 52″, 65″ and 84″ options.
Vernon is prepared to provide a variety of rentable LCD options in differing configurations – all to meet the needs of its enterprise-class consumer base.