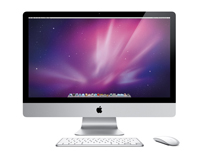 Powered with Intel's i3 processing power, the iMac – Apple's classic desktop favorite – possesses the speed to satisfy today's computer user, while still holding on to the slick no-clutter design of an all-in-one.
The iMac 27-inch Core i3 also stays true to the impressive display that has made this desktop a popular option among professionals in a creative role. Should you choose to rent this model, you can expect 27-inches of a LED-backlit TFT active-matrix LCD picture, supporting in-plane switching and displaying millions of colors.
Perhaps you like this model, but have required specs of your own? Below is a list of the specifications of this particular rental option, but should your needs differ, just contact us and it is likely that we can accommodate you.
A Glance at iMac 27-Inch Core i3 Specifications
Processor class: Intel Core i3
Processor speed: 3.2 GHz
Cache Size: 4000 KB
Display type: LCD/Glossy
Display Size: 27 inches
Maximum resolution: 2560 x 1440
Connections: Audio – Digital Optical, Bluetooth, Firewire 800 port, Mini DisplayPort, 4 USB (rear)
Memory: 4000 MB / DDR3
Max Memory: 16000 MB
Total Hard-drive capacity: 1000 GB
Hard Drive Speed: 7200 RPM
Rent the iMac 27-Inch Core i3 from Vernon Computer Source
When seeking the right desktop computer rental for your organization, Vernon Computer Source has models from the industry's leading manufacturers. Each rental is custom configured to meet the specific needs of a business, whether it's one computer for 100 days, or 100 computers for one day.
To learn more about these services, simply fill out a quote form and a Vernon associate will provide you with the requested information within the hour. Alternatively, you can always give us a call at 800-827-0352 to speak with someone now.?