Rent from the Acer AL1916 LCD Monitor Line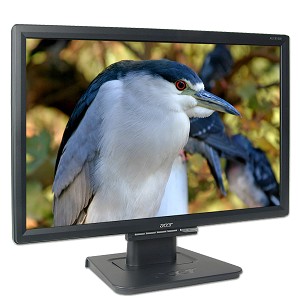 Is your organization looking for the perfect monitor to suit  the desktop needs of a corporate project, or the display needs of a tradeshow?  You may find the monitor fitting your technical and budgetary requirements in the Acer AL1916 LCD Monitor line in our LCD monitor inventory at Vernon Computer Source.
The AL1916 LCD Monitors feature at 19-inch, TFT Color LCD display with a 1280 x 1024 resolution at 75 Hz. The monitor comes in a basic black, and can fulfill the basic requirements you seek while seeking out a short-term monitor rental for your business endeavors.
The Acer AL1916 LCD Monitor Specifications
Monitor Size: 19-inches
Display Type: TFT Color LCD
Display Area: 14.8 x 11.9 inches (376 x 301 mm)
Input Signal: VGA (Analog D-sub), DVI-D (Digital on select units)
Resolutions: 1280 x 1024 @ 75Hz
Power Consumption: 60W
Dimensions (W x H x D): 16.6 x 17.0 x 6.9 (422 x 433 x 176 mm)
Weight: 12.3 lbs (5.6 Kg)
Rent an Acer AL1916 LCD Monitor from Vernon Computer Source
We stock an extensive line of LCD monitor rentals from the industry's top manufacturers from Acer to Dell, from NEC to Samsung — and more.  With international affiliates and national distribution centers, we supply monitors to events and organizations around the world, both big and small.
If we can be of service to you, give us a call at 1-800-827-0352, or fill out a FlexQuote and one of our sales representatives will contact you with the information you provide.