3D LCD Displays with no glasses or goggles!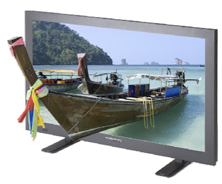 Allow Vernon Computer Source to give you the tools for content conversion and content creation of your next 3D project with a TRIDELITY 3D LCD display. This solution allows you to apply the power of 3D viewing to your business. Whether you are involved in marketing, research or gaming, 3D viewing technology from TRIDELITY will elevate your view.
A Multi–view and Single–View Display
Multi–View displays offer 5 different perspectives spread horizontally. Because of the horizontal spread, multiple viewers can see in 3D simultaneously. These displays are ideal for the digital signage industry.
Single–viewer displays are designed for precision applications. They work with 2 perspectives that provide better picture separation and a higher reachable resolution per eye. Single–viewer displays are suited to 3D desktop applications, including medicine, geo science, and satellite image analysis.
The Benefits of Digital Signage
Advertisers using digital signage can make their ads stand out from the crowd with 3D effects that offer exceptional 3D depth and viewing comfort. The 3D experience offers a complete package–a 42" display with integrated PC. They also offer Multi–View 3D displays in 24", 27" and 57" sizes.
Displays include a flexible, high–precision optical element and high–quality anti–reflection panel protection film.
Users can convert 2D content to 3D using toolkit plug–ins, or create brand new 3D content of your own. This 3D rental solution system includes plug–ins that work with Maya and 3D Studio Max, as well as content management and post production software.
The same qualities that make TRIDELITY ideal for digital signage also make it a great choice for 3D entertainment, including movies and games. All can be enjoyed in high–quality 3D without glasses.
Science/Technology Applications
Single–viewer 3D displays offer the precision needed for specific applications in the fields of medical, biotechnology and life sciences. Here are just some ways this technology can be used:
Endoscopic surgery. Surgeons can perform delicate procedures locally or long–distance. With the precision view of TRIDELITY 3D displays, doctors can follow their actions in real–time on a computer monitor.
Diagnosis. Using 3D LCD scans of CT or radiological data helps medical professionals make better assessments of a patient's condition.
Molecular Modeling. Used to develop new chemicals and medications, molecular modeling requires detailed analysis of molecular structures. This analysis is greatly enhanced by 3D LCD displays.
Government and military departments also make use of this cutting–edge technology for analysis of satellite images. Currently, their CRT displays require them to use glasses or polarization filters. 3D LCD displays offer a sharper image without requiring the use of any intermediary device.
Flight simulations are another application of the 3D LCD technology; crisp 3D images result in a more realistic learning experience for pilots in training.
To learn more about the many benefits of a 3D LCD display rental solution contact Vernon Computer Source today.