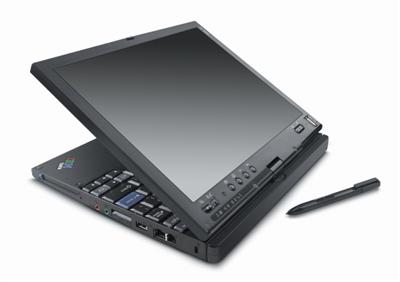 One of Lenovo's first tablet notebooks that would soon become a favorite among business users and medical professionals, the ThinkPad X41 tablet is still available for rent. Those seeking a economical option for basic uses of an ultraportable tablet notebook will find our laptop rentals in optimal shape, ready to perform the task at hand.
You'll find the design to be what many Lenovo enthusiasts come to expect from the PC manufacturer: a comfortable keyboard with a red TrackPoint pointing stick, two mouse buttons and a button for scrolling. This model also features a rubber surface intended to enhance your grip, and make it easy to hold the machine in one and write in the other, much like a clipboard.
A Glance at the ThinkPad X41 Specs
Operating System: Windows XP
Processor: Intel Pentium M 758 / 1.5 GHz
Hard Drive: 40.0 GB HDD
Max RAM: 1.5 GB
Display: 12.1 inches
Resolution: 1024 x 768
Dimensions ( W x D x H): 10.8 x 9.5 x 1.3 inches
Weight: 3.5 lbs
Rent the Lenovo ThinkPad X41 from Vernon Computer Source
As a part of the largest IT and AV rental organization in the world, Vernon Computer Source provides its customers access to an expansive selection of hardware with comprehensive customer service and around-the-clock technical support. Whether it's displays for an event, or renting laptops for a training session, professionals seek out the rental services of Vernon to meet their  short-term technical needs.
To learn more about how to rent laptops for your organization, simply fill out a quote request and a representative will provide you with the information you seek within the hour.