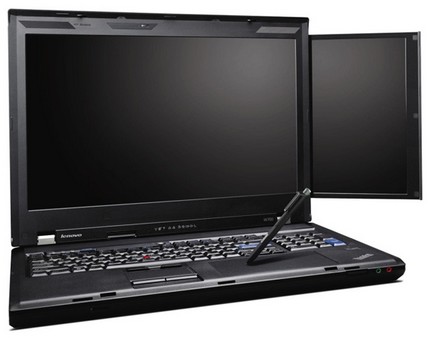 The W700 is our first notebook computer rental with an integrated secondary display. That's right – it has two screens. The main screen is a 17–inch widescreen and, tucked behind it, there is a 10.2–inch display.
PC Magazine called the W700 a "supercomputer," and recognized it with an Editor's Choice award.
An "Absolutely Impressive" List of Features
Gizmodo reviewed the W700 and noted its "absolutely impressive" features:
Intel quad–core technology – offers tremendous processing power
Pantone color sensor – ensures colors are portrayed accurately on screen
Wacom digitizer on the palm rest – built–in tablet technology for writing, annotations, and drawing
optional secondary screen – use to check email, access the Internet or perform other tasks without disrupting the work being done on the primary screen
Other great features include :
what PC Magazine calls "essentials" – five USB ports, FireWire port, integrated Web cam and fingerprint reader
Nvidia Quadro FX 3700 M – a "workstation graphics card" that has Independent Software Vendor (ISV) certification, i.e. it is certified to work with major CAD, DCC and GIS applications
Vernon's Rental Options
The innovations seen in the W700 don't come cheap. Before making such a substantial investment, why not take the W700 for a trial run? With our short–term rentals, you can try it for a few weeks before you buy. Or, if you want to impress clients with the latest technology, a short–term rental would be ideal.
Maybe you have a special project that requires the technologies needed in this model. Although it is perfect for all kinds of applications, it is especially well–suited to graphic design and photography. Give your graphics people a new tool for their next big project, and see how it performs. Try a long–term rental to access the W700 for a few months.
If you've tried it and decided you can't live without it, try renting to own to save yourself a large outlay of capital. You can also buy the W700 outright from Vernon.
Complete Support from Vernon.
Not sure if the W700 is right for you? Just tell our rentals experts what you need and they'll help you get the most suitable technology.
If you have chosen to rent the W700, rest assured that our technicians will be available by phone for troubleshooting and technical support, 24 hours a day, 7 days a week.
Contact Vernon Today
For more information on Lenovo Thinkpad Dual Screen W700 rentals, contact us by phone, email or through our Flex Quote form.