Rent the Lenovo (IBM) ThinkPad T60 Laptop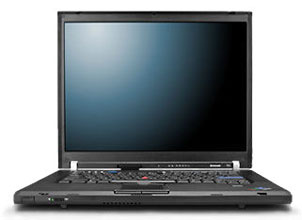 Companies seeking an efficient, business-class laptop rental priced cost-effectively and operating with the speed of Intel's Core Duo processor should consider IBM/Lenovo's ThinkPad T60 to satisfy their requirements. When the computer first made its debut, it was hailed as the optimum business-laptop with superior performance, solid management utility, and long-lasting battery life.
When the ThinkPad T60 was first released to the public, PC Magazine said, "Once again, the ThinkPad continues its winning streak of Editors' Choices for business notebooks, this time with the Lenovo ThinkPad T60." Once considered a bit "pricey" compared to its counterparts, the T60 is now a cost-effective solution for managers looking to supply their employees with all of the PC functionality still required by business professionals.
The Lenovo (IBM) ThinkPad T60 Laptop Specifications
Processor: Intel Core Duo processor
Memory: 256MB, 512MB, or 2GN and supports up to 4 GB maximum memory
Hard Drive: 40GB, 60GB, 80GB, 100GB, or 120GB hard drive sizes
Networking: WiFi
Battery: Lithium Ion in 6 cell or 9 cell configurations
Rent the Lenovo (IBM) ThinkPad T60 Laptop from Vernon Computer Source
When your company has a short-term need for laptops while training, on-site or at an exhibition; contact us at Vernon Computer Source. As the largest IT and AV rental supplier in the world, we are well suited to cater to the needs of organizations of all sizes.
To learn more about our laptop rental fleet, call us at 1-800-827-0352 or fill out a FlexQuote and one of our sales representatives will contact you within the hour.